Union Concerned Over Proposed Staff Cuts
THE Universities and College Union Vice President says he is surprised that GCU are looking to cut staff.
This follows news last month that the university are planning a severance scheme in order to gain some headroom for achieving growth in priority areas.
Dr Douglas Chalmers, who is a senior media and journalism lecturer at the university, says staff already have a heavy workload compared to other universities in Scotland and believes this would only worsen this situation.
He said: "There's something strange in arguing that we need to cut staff in order to grow and to improve performance.
"Last year we had the highest student – staff ratio of all the post 1992 universities in Scotland.
"Apparently the figures have slightly improved this year, but cutting back again on staff may just send the figures rocketing up – it's hard to tell, as management have not felt able to release targets to us regarding the financial savings of the job cuts they are looking for."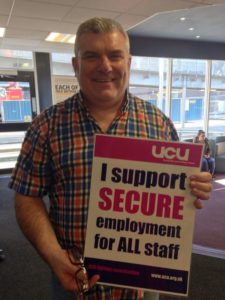 In response to this, GCU said that it was actively working with the unions to address academic workload and that the MSS was open to both academic and professional staff.
However, Dr Chalmers believes the scheme could still damage student experience.
He added: "It has the feeling of a rather hurried exercise, and it's one where past evidence suggests it's not the best way to proceed.
"Our argument as unions has always been that where staff have a decent, and not overbearing workload, then it frees up time for research and income generating activity which is the best way to safeguard the university's future, and ensure students get the type of education they need."
The new severance package would be in addition to the existing voluntary severance scheme.
Deputy Vice Chancellor, Professor James Miller, believes students are at the heart of the university's aims which includes 85% overall satisfaction by 2020 and believes the changes are necessary to help the university grow.
Professor Miller said: "The Mutual Severance Scheme is about creating capacity to maintain and grow our areas of strength in teaching and research to meet student needs and expectations.
"We can't stand still, and the scheme is one way the University can gain some flexibility to invest in areas of opportunity to improve the student experience and grow our income, recognising the continued reduction in funding from the public purse.
"We are already leading the way in delivering the best outcomes for our graduates and we want the experience our students have while they are here to match the quality of opportunity they are finding when they leave to go into employment or further study."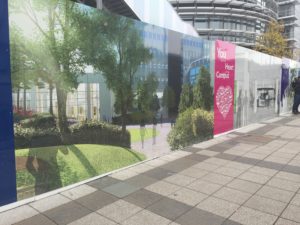 The Deputy Vice Chancellor also said he hopes the university will not only survive this difficult economic climate, but thrive.
He said: "We are not immune to external challenges but we are confident we can respond to these and see the University enjoy continued growth here and overseas.
"The mutual severance scheme we are currently offering staff is just one way we have identified which will help us play to our strengths.
"We've given a clear message to our 1600 staff that our aim is to grow the University, and students should take encouragement from that too."
Featured Photos Credits: flickr/caledonianunion (top and middle) and flickr/jacbgla (bottom).