Low Emission Zone Boost for Glasgow
With Glasgow's pollution levels higher than the London's, it's fair to assume we are all worrying for our health and well-being, as well as that of our future offspring.
Shocking figures revealed by the World Health Organisation at the end of October show that our city has 16 micrograms of hazardous particles per cubic metre of air – exceeding the safe limit of 10.
Even more worryingly, 80% of pollution related deaths are heart attacks or strokes due to matter particles clogging human arteries.
Thankfully, Nicola Sturgeon has announced that Glasgow is set to become the first city in Scotland to introduce a Low Emission Zone (LEZ) next year.
As delightful as this sounds, what does it really mean?
Charity Friends of the Earth held a discussion event in November where the focus was the practical side of these LEZs.
Councillor Anna Richardson, who is the city convener for sustainability and carbon reduction, explained: "A low emission zone is a defined area of the city that restricts entry to vehicles based on their engine emissions and usually, we regulate that using number plate recognition.
"It will be applied to certain categories of vehicles and you can tighten it up on a phased basis rather than bringing it in entirely in one go."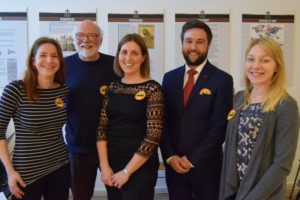 There are 200 LEZs already in place across Europe and, by 2020, the Scottish government plan to have them in four of the cities in Scotland.
Emilia Hanna is an air pollution campaigner who works alongside Friends of the Earth Scotland.
She said: "This is about health but it's also about climate change. at the heart of our cause has been the call for a network of LEZs to be rolled out in scot asap to tackle the illegal levels of pollution that we still have.
"We're not going to stop campaigning until the air is safe to breath everywhere and we have a clean and fair transport system that puts pedestrians and cyclists on an equal footing with cars."
Cllr Richardson also said that Glasgow's first steps are still in talks due to issues surrounding funding.
She added: "The evidence shows very clearly that we can reduce emissions most substantially by imposing restrictions on the most polluting buses in the first phase.
"That means all buses passing through the area are either upgraded to euro 6 engines or are retro-fitted to ensure all emissions are to a euro 6 standard.
"By the end of March next year, we will bring forward our planned timescales for all vehicles which will also require a phased approach."
So, hopefully by next year we will have cleaner air to breath and the glimpse of a fresher future.
Featured Photo Credits (Top): flickr.com/Francesco Falciani
Featured Photo Credits (Middle): Tamsin Ross