High Hopes for Refugee IT Graduates
The first students of Scotland's only course teaching refugees and asylum seekers programming skills have graduated .
Code Your Future is an independent group of professional coders teaching the computing skills to refugees and asylum seekers through hands on classes and tutorials.
Students are taught in-demand computer programming skills using a syllabus created by professionals from top corporate companies.The initiative has already had huge success in London with all of those who graduated from the course receiving employment opportunities due to their new skills.
The course was brought to Scotland last April by Mozafar Haider, a professional coder and Sudanese national. "For me it's close my heart", says Mozafar.
"Coding is one of these things that is accepted everywhere to the same standard.
"Maybe If I had studied to be a doctor in my home country, it wouldn't be as respected elsewhere, but coding is recognised everywhere to the same level."
Code Your Future is based on a Dutch course called Hack Your Future. It was founded by a group of coders living in London, of which Mozafar was one.
They receive no funding from any private or government funded bodies. All equipment  is donated to them right down to the laptops they provide to students and space they use to carry out the course.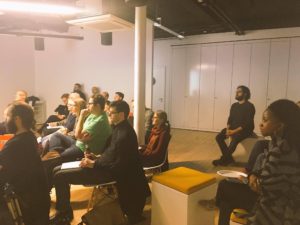 Mentors themselves have even chipped in to cover childcare and transport costs for students on the course so they could attend the classes.
As well as providing viable skills to aid employment, Code Your Future acts as social group bringing together people from all different backgrounds.
Mozafar added: "The majority of those on the course are asylum seekers trying to gain refugee status, because as an asylum seeker you cannot work. Because of this, most people come for the socialisation."
The students are currently working on building two apps for their final project, one of which is in conjunction with Refuweegee, a charity helping refugees settle in and get back on their feet. The app will be a welcome pack for new refugees arriving in Glasgow. It will give them advice, tips and useful knowledge for living in Glasgow.
Ethiopian student Yohannes studied computing in his home country before being deported.
He said: "I was two years into my university degree before I had to leave, so I was lucky to find Code Your Future through my volunteering.
"Being part of the course has improved my confidence not just in coding, but also in English."
Next Code Your Future is hoping to expand their student pool by offering female only classes to encourage more female refugees into becoming computer programmers.
They are also hoping to offer a few places to UK citizens who are interested in learning to code.
The group is currently looking for students to join the course next year. If you are a foreign national or have an interest in coding, contact:  scotland@codeyourfuture.co.
Featured Photo Credits: twitter.com/CodeYourFuture_