Glasgow's Top Festive Outings
Glasgow can sometimes suffer from its reputation as a grey and reserved city, but during the festive period it is anything but. They say that People Make Glasgow, but there is so much happening in the lead up to Christmas which sells the city itself.
If you didn't make the Christmas lights switch-on at George Square then fear not, as the Christmas Markets will be sure to cater to your needs.
You will be spoilt for choice as both St Enoch Square and George Square will be bustling with people as they offer a variety of food and drink up until the 22nd and 29th of December. A stone's throw away is the famous ice rink which has been a staple of Glaswegian Christmas goers for an eternity, while the big-wheel and helter-skelter situated in the latter always offer a good way to let your hair down.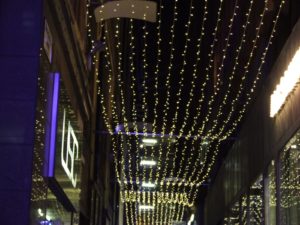 If it's a family affair you're after, a night at the theatre to watch Panto is an annual tick on the bucket list, with shows including Tinsel Toon, The Wizard of Never Woz and Cinderella running throughout December.
The Irn-Bru carnival – Europe's largest indoor funfair – sees you through to the New Year, opening at the SEC Centre four days before the big day and closing up its famously Glaswegian-named rides such as Sticky Wall and Superbob on the 24th January 2018. At just £13 it's a must do.
With so much to offer during the festivities, there's no better place to celebrate Christmas than Glasgow.
Featured Photo Credits (Top): flickr.com/photos/Michel Curi
Featured Photo Credit (Middle): flickr.com/photos/emmamykytyn
Featured Photo Credit (Bottom): flickr.com/photos/Donald Ferguson