A Gift That Keeps On Giving
As a third year student nurse, Glasgow Children's Hospital Charity is an organisation I am very familiar with. Having had the majority of my placements at the Royal Hospital for Children in Glasgow, I have seen first-hand the amazing effects the charity has on all the brave young patients who are treated at the hospital.
Patients being treated come from all over Scotland, sometimes with very complex needs that require specialist equipment, advanced medical knowledge and structured family support services. All of which comes at a cost – this is where Glasgow Children's Hospital Charity works its magic.
So what is it?  
Since 2001, Glasgow Children's Hospital Charity has been changing the lives of children and families who use the Royal Hospital for Children. The funds raised are put towards many things to enhance the care given to patients; this can be from the latest medical equipment and research, to creative play programmes and family support services.
This positively impacts the lives of the 168,000 babies, children and young people who are treated at the hospital each year.  Like all charities, Glasgow Children's Hospital Charity needs the help of the public to donate, take part in events, fundraise and volunteer to raise money!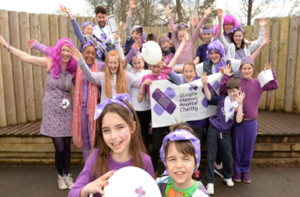 How can you help this festive period?  
We all know that Christmas is a time for giving, so instead of wasting your pennies on another pair of Christmas pyjamas or that aftershave set, why not donate to a good cause!
Every Christmas the hospital is extremely lucky to be inundated with many presents for the children, but this often means they cannot use them all. Glasgow Children's Hospital Charity kindly encourages money donations rather than presents.
This way, your money goes towards developing and enhancing the care of the brave boys and girls who require treatment all throughout the year, not just at Christmas!
Maybe you would like to do something special to donate?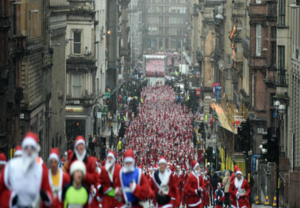 In the lead up to Christmas, the Children's Hospital has lots of exciting fundraising events and has organised several ways for you to make a donation.
Perhaps something as simple as purchasing some Christmas cards or presents, as there are lots of festively designed cards and adorable cuddly toys to choose from, with a Christmas pop-up shop at Buchanan Galleries which will run for three weeks in December.
Maybe you would like to take part in the Santa Dash, an activity which is really fun for all ages. On the 10th December, there will be the opportunity to run a 5k race dressed as Santa, beginning and ending at George Square.
Or, why not take your mates along to a Christmas drive-in movie? You can choose from two absolute classics – Home Alone or Elf – on the 16th of December at the Riverside Museum. Enjoy yourself this festive period with the sincere feeling that your money is going to greatly benefit the care of the babies, children and young people at the Royal Hospital for Children.
How can I find out more?  
To take part in fundraising events, donate money, or sign up to be a volunteer, you can check out the charity website at www.glasgowchildrenshospitalcharity.org. Visit the fundraising hub, located at the Royal Hospital for Children, opposite the main reception desk. Alternatively give them a call on 0141 212 8750.
So please for this year, let the kids know it's Christmas time.
Featured Photo Credits: Glasgow Childrens Hospital Charity.