Cheers! Students delight as new GCU bar is announced
GCU students can finally celebrate having a bar on campus, as the Students' Association declares its return.
It was announced today that the new student bar, entitled Re:union, will be built in the Student Association building replacing the Bistro currently there.
This follows pleas from students for a on-campus bar since the old one was closed 10 years ago.
GCU Student President, Kevin Campbell, says that he is honoured to be the first President to bring the bar back and is glad students finally have somewhere to call their own.
He said: "For over a decade, the single biggest complaint we receive from students is about the lack of a bar in the Students Association building.
"It has been a recurring issue for so long and this year I decided it was time to do something about it, which is why I decided to make it the central pledge in my manifesto.
"When I originally put it on the manifesto, I was concerned we wouldn't be able to secure it in time for Freshers but now that everything's in place, I'm incredibly proud of all the hard work that everyone has put in and come Freshers, we will finally have a fully functioning union bar right here in your Students Association."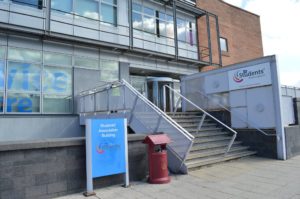 Work on refurbishing the new space is due to begin at the end of August with the aim of this being completed by the start of Freshers week next month.
Alex Stuart from Baxter Storey, the company who will be running the bar, said she is looking forward to seeing the bar built and believes people will react well to the new hotspot.
"I think students and staff alike will love the refurbishment that's planned."
Alex also said that she hopes the bar will add to the universities' already strong 'community feel.'
She added: "The name reflects our hopes that this space will become a hub for students, somewhere they can go to socialise with friends, discuss coursework or even hold their own event.
"There's been a lot of love put into it and I believe it's going to give that space the lift it deserves."
Interested in writing or taking photos? Get involved in The EDIT: editor@theeditgcu.com
Our good friends at Radio Caley spoke to Kevin Campbell and took an exclusive behind the scenes look:
Featured photo credit: facebook.com/GCUStudents